Customer Care Center
Our Customer Care center is your one-stop-shop for SkyAuction customer support. We offer the following services in our Customer Care center: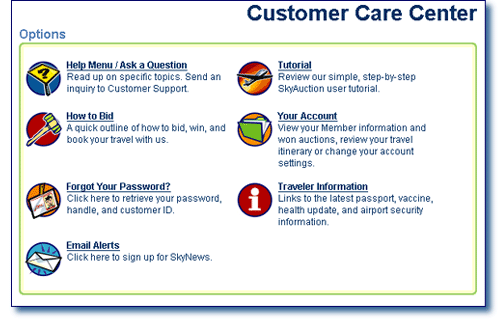 Help Menu / Ask a Question - Read up on specific topics. Send an inquiry to Customer Support.

How to Bid - A quick outline of how to bid, win, and book your travel with us.

Forgot Your Password? - Click here to retrieve your password, handle, and customer ID.

Your Account - View your Member information and won auctions, review your travel itinerary or change your account settings.

Traveler Information - Links to the latest passport, vaccine, health update, and airport security information.

Email Alerts - Click here to sign up for SkyNews or change your mail preferences.